We've all experienced that gut wrenching feeling when a warning light suddenly turns on, forcing us to pull over and try to figure out the problem. Some car warning lights aren't critical, while other common dashboard symbols can indicate serious issues with your car. In this blog, we're going over common dashboard symbols and their meanings.
What are warning dashboard symbols?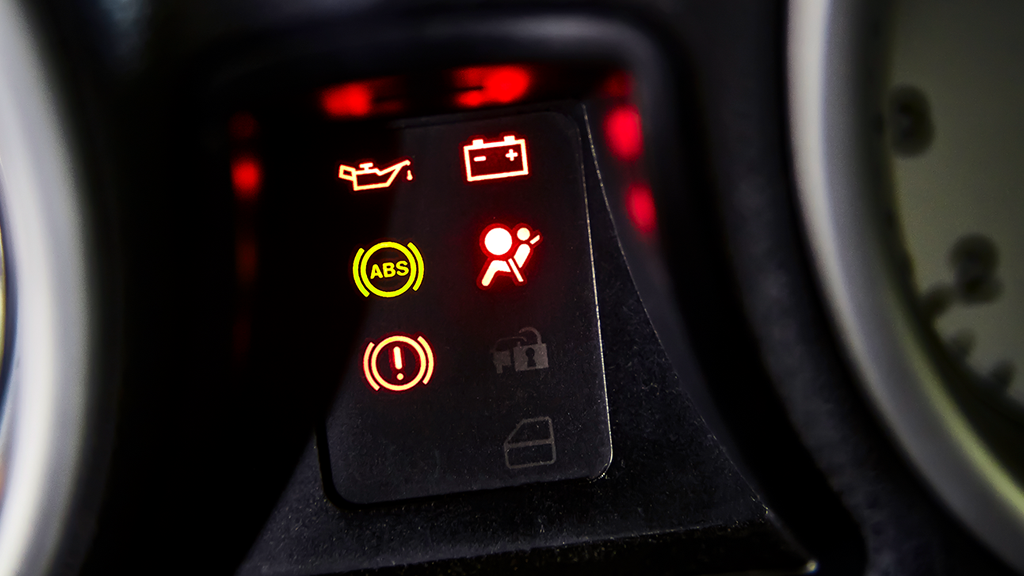 It is a set of indicators that illuminate behind the steering wheel when you turn the ignition on or while you're driving. Each of these symbols conveys a message about how your car is functioning and what's wrong with it. Common dashboard symbols fall into three groups according to their colors: green, yellow/orange/amber, and red. Yellow and red ones shouldn't be ignored, otherwise you may end up needing serious car repair services. However, their color can differ on different makes and models, but there are still very similar signs used on most vehicles.
Green dashboard signs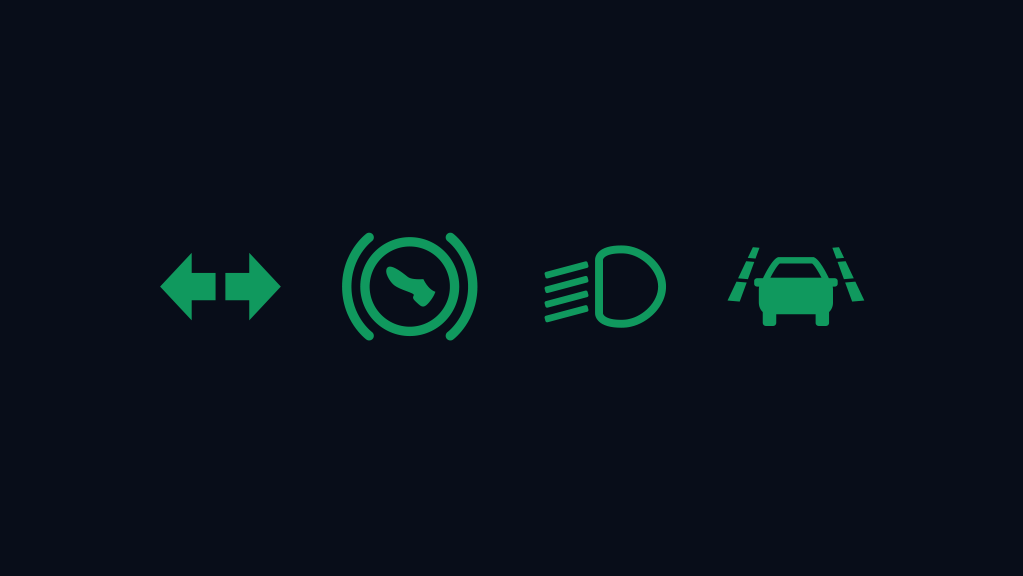 These are the least common dashboard symbols that, in fact, don't tell you that something is wrong. They include:
turn signals (two green arrows pointed in different directions),
low beam light indicator (a lamp with lines down),
and lane-keeping monitoring on some models (a sign with a road).
New models with automatic transmissions also have a brake pedal indicator (a shoe in a circle). Since there is no clutch pedal on cars with automatic transmission, these lights may come up before you apply the brake pedal to shift in or out of park. They disappear as soon as you press the pedal.
Yellow warning dashboard symbols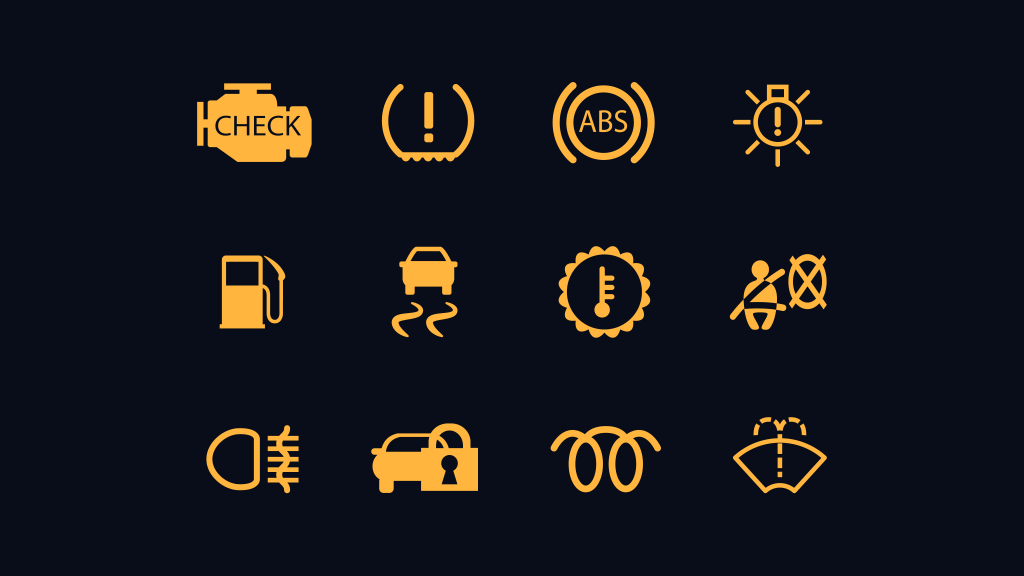 Contrary to the previous group, yellow warning lights are the most common. They include:
check engine light (a contour of an engine)
tire pressure warning light (a warning light resembling a horseshoe with an exclamation mark inside)
ABS warning light (ABS in a circle)
low fuel warning light (a gas station sign)
traction/stability control warning light (a car with curved trajectory)
transmission temperature warning light (a cogwheel with a thermometer)
airbag malfunction/deactivation warning light (a passenger with a crossed ball in front of him)
glow plug warning light (a spiral, mainly on diesel vehicles)
exterior light fault warning light (a lamp with an exclamation mark inside, found mainly on trucks)
washer fluid warning light (a sign of a watered windscreen)
fog lights warning (a lamp with crossed lines; indicates that fog lights are turned on)
a security system warning light (a lock or a lock with a car)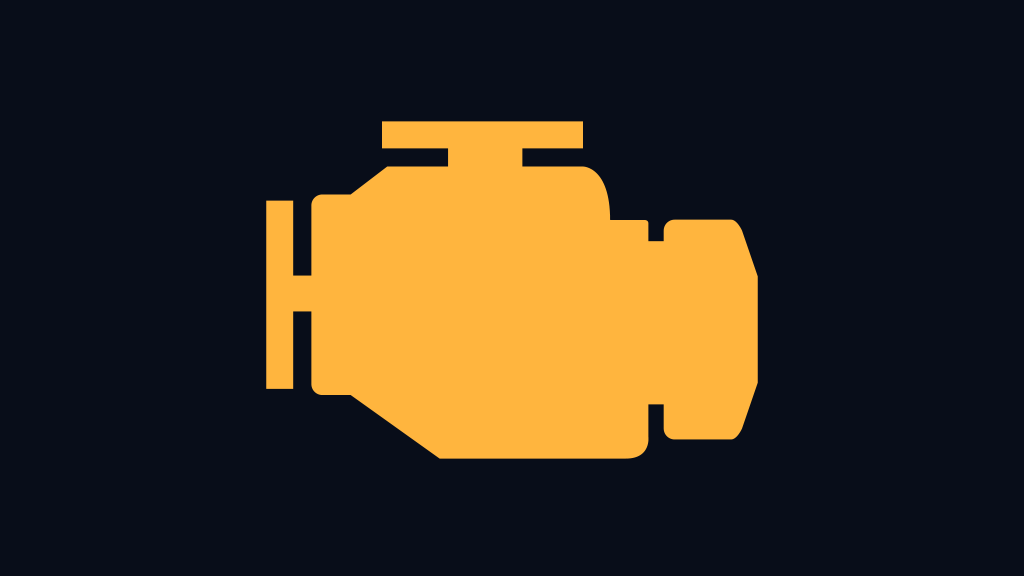 This light mainly indicates issues with the motor like insufficient coolant levels, overheating, worn spark plugs, and so on. It can also indicate a loose gas cap or improperly working cables on the accumulator.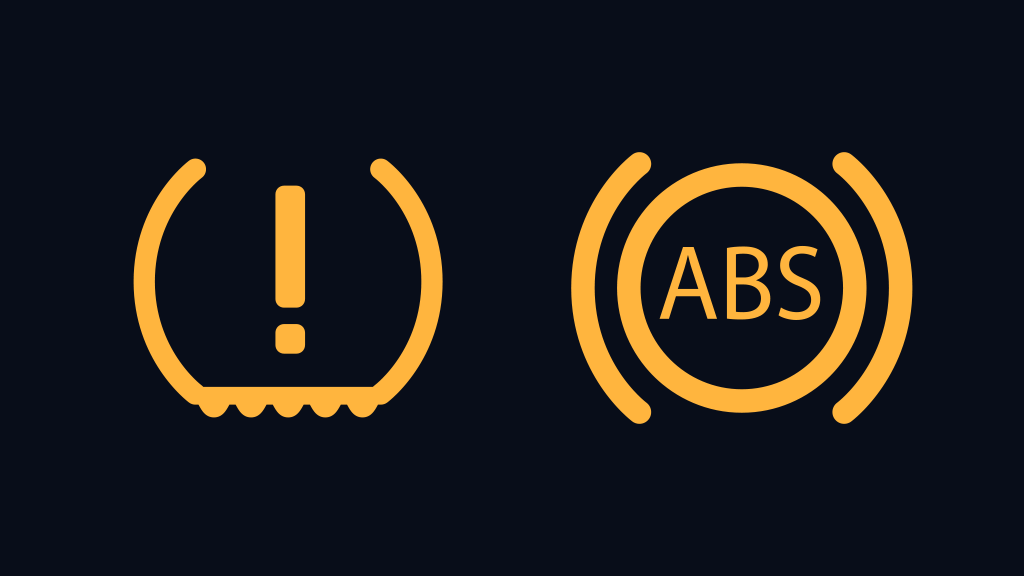 A tire pressure warning light shows that at least one tire is punctured or improperly inflated, whereas an ABS warning light indicates there is an issue with the anti-lock braking system. While changing a tire on your car isn't complicated, diagnosing a problem with ABS may require a skilled auto mechanic.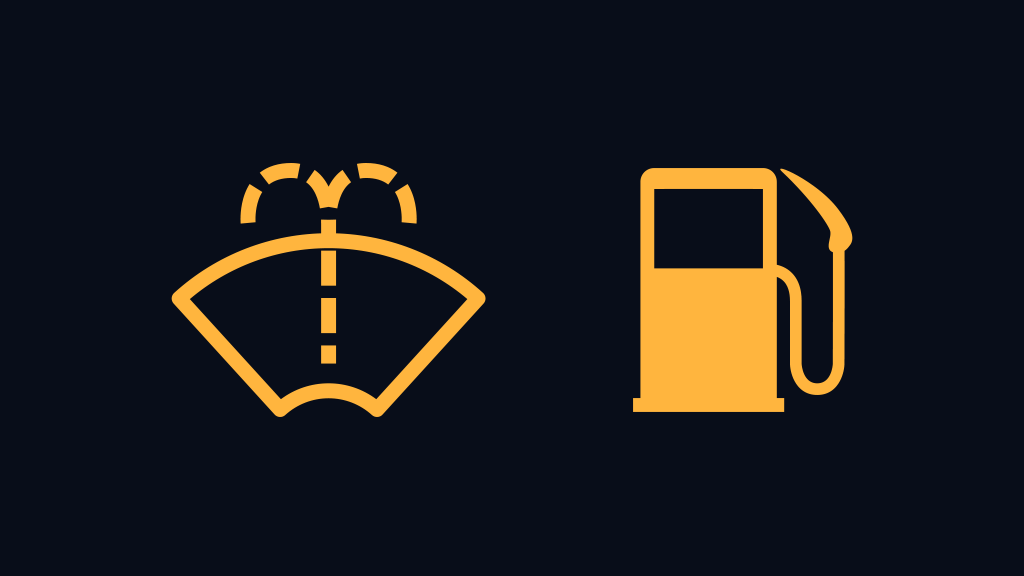 These two show that you're either running low on gas or on a washer fluid, which is necessary for driving in inclement weather. Both gas and washer fluid can be purchased at the nearest gas station, so you don't need to worry when these warning lights appear.
Red warning lights on the dashboard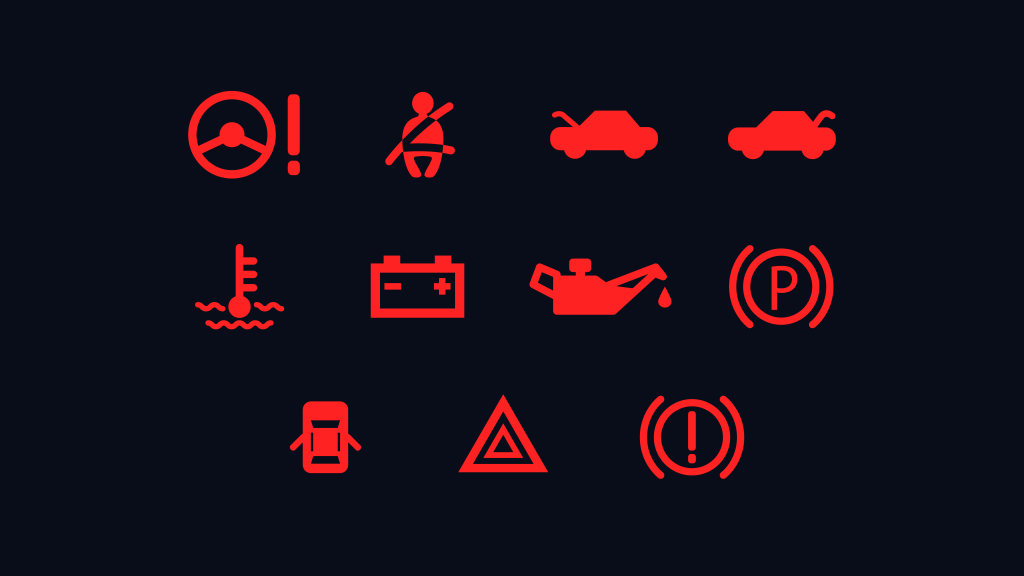 Red warning lights on the dashboard always require immediate attention. They are as follows:
engine temperature warning light (a thermometer underlined by two waves)
battery charge warning light (a battery sign)
oil pressure warning light (an oil can)
handbrake warning light (an exclamation mark in a circle)
power steering warning light (a steering wheel with an exclamation mark)
seat belts or restraint system warning light (a person with an unfastened seat belt)
parking brake warning light (a letter P in a circle)
open doors warning light (a sign of a car with open doors)
hazard lights (two triangles)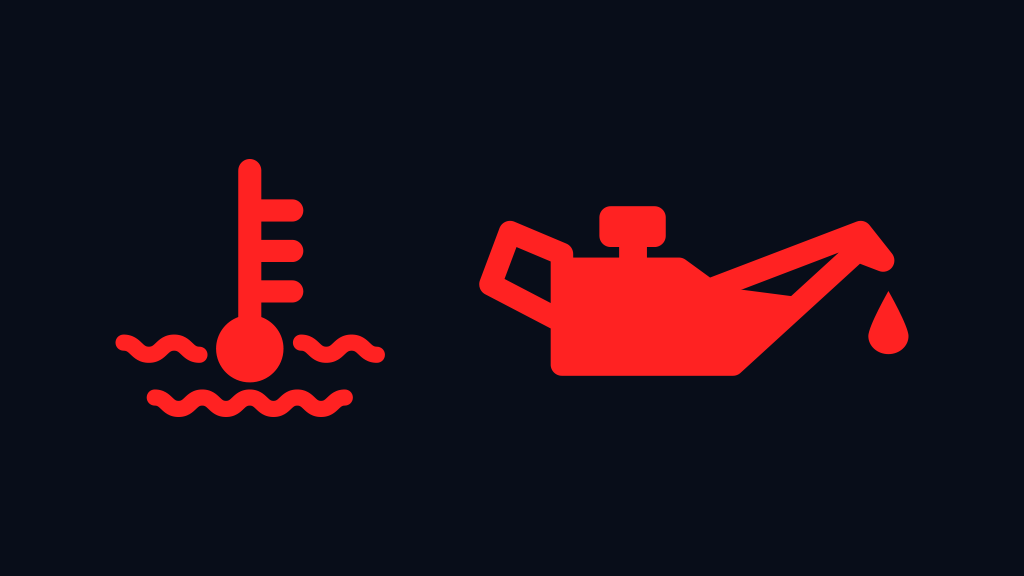 The engine temperature warning light indicates an issue with engine overheating, whereas the battery sign indicates that you're likely to have either a weak, discharged, or dead battery. The oil pressure warning light signals about issues with oil, a clogged oil filter, or insufficient oil levels in the crankcase. Keep in mind that on most cars the oil pressure, battery, and check engine warning lights illuminate for a few seconds before starting the ignition, which shows that all the necessary vehicle parts receive power.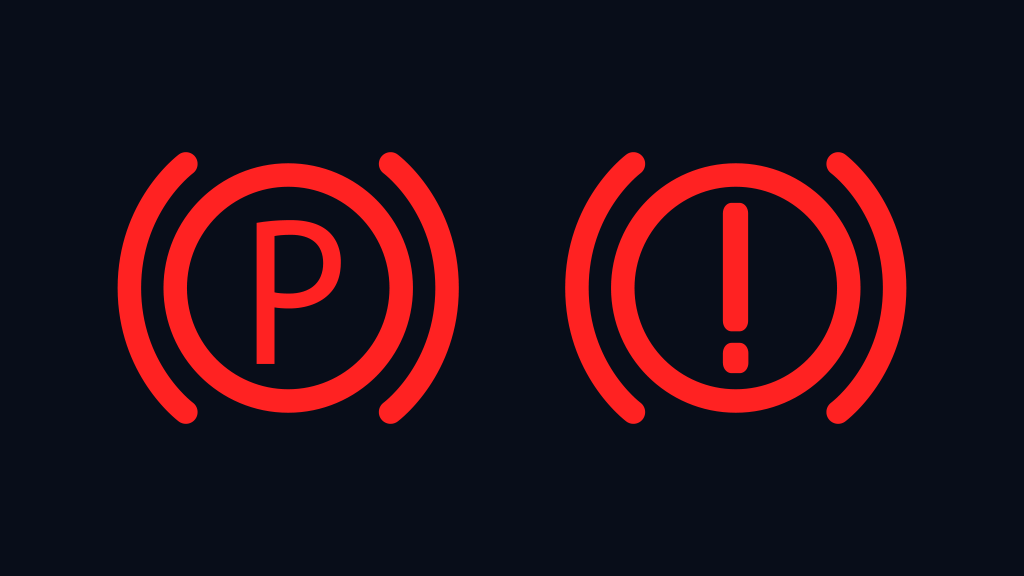 Handbrake and parking brake warning lights appear when any of the two above mentioned warnings are applied. Never ignore seat belts warning and doors ajar warning lights, as they influence safety systems that help you avoid getting hurt in accidents.
Final Word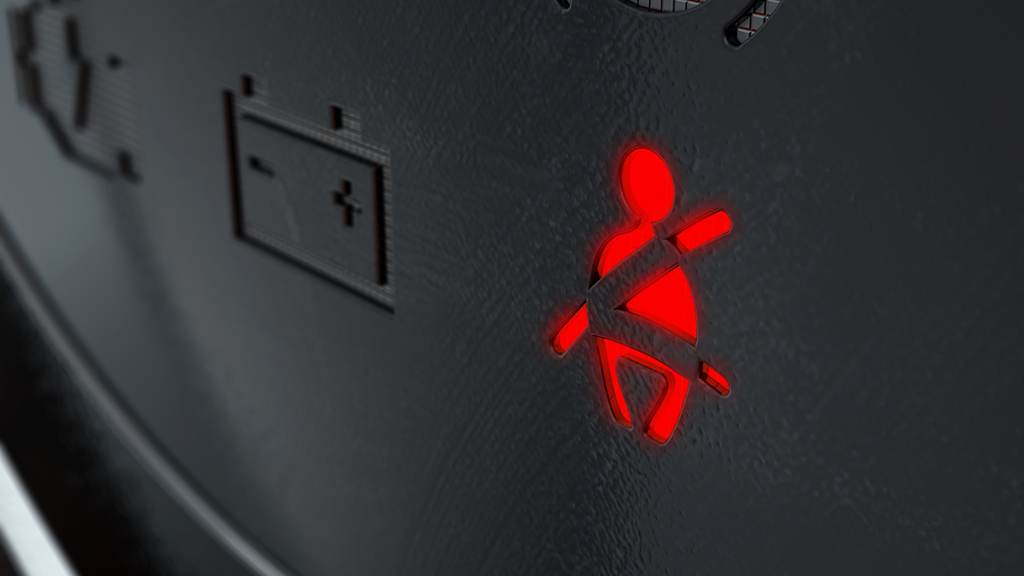 Understanding common dashboard symbols will help you avoid unpleasant situations on the road and prevent potential issues from getting worse. Salvagebid is here to guide you through the basics of car maintenance and safe driving, even if you haven't bought a car yet. Take a look at our other blogs, dedicated to driving safety, vehicle maintenance, and common problems that may occur with your vehicle. When you've already made up your mind and decided to buy a car, start with Salvagebid. Here you can find thousands of cars, trucks, motorcycles, and other vehicles at a bargain. Register with us, upload a copy of your passport or a government-issued ID, place a refundable security deposit, and you're ready for bidding. Don't hesitate to give us a call at + 1 (360) 347-1300 (6:00 AM – 3:00 PM Pacific Standard Time, Monday to Friday) with your questions. You can also reach us via our online form.