The process of buying a used car always carries several risks. However, it's still a fun and joyous activity all of us aspire to. Most new vehicles marketed for the USA come standard with automatic transmission. Buyers have been voting with their wallets for these gearboxes since 1995, and they won't disappear. In this blog, we're figuring out what you'll have to pay attention to when buying cars with automatic transmission.
The Pros and Cons of Cars With Automatic Transmissions
Nearly 95% of all motor vehicles on American roads are cars with automatic transmissions. Below you'll find why everybody, including carmakers, fall in love with this type of transmission.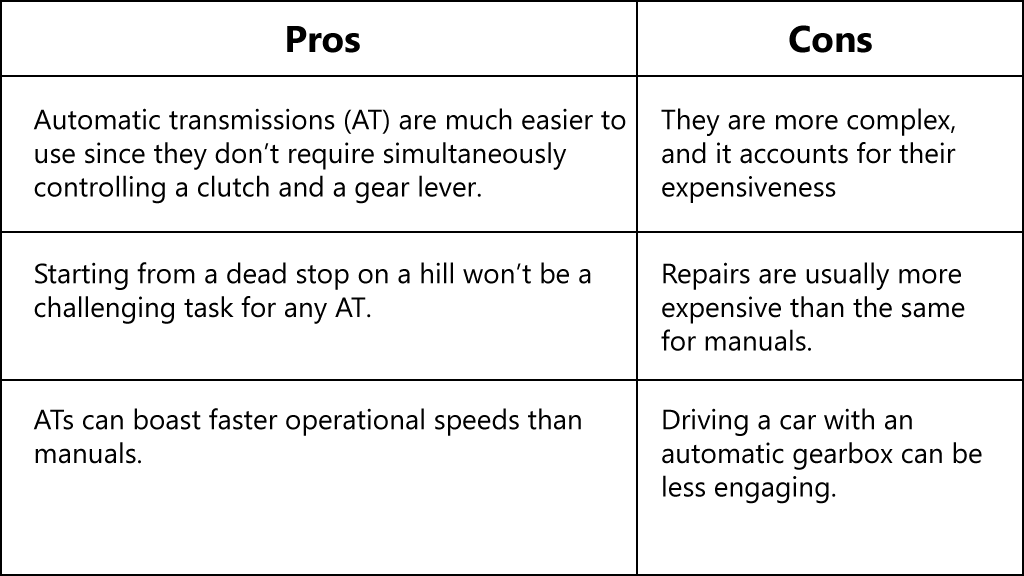 As you can see, the pros of cars with automatic transmission outweigh their cons. The latter are few and far between, but they won't cause much hassle for your routine driving.
Nevertheless, row-your-own cars are becoming extinct, although several manufacturers like Porsche and Honda don't want to cut sticks from their ranges. Ardent fans of manual transmission can still enter the stick-shift world and look closely at these cars we've discussed earlier.
Types of Automatic Gearboxes
Automakers develop newer and more intricate transmission types. Besides, they are working on better fuel efficiency and improvements in gearbox response speeds.
Consequently, car brands can equip even cool sports cars with innovative gearboxes. All cars with automatic transmission are generally split into four categories:
'Classic' Automatic Transmission
A so-called 'classic' automatic transmission uses a planetary gear set and a torque converter to aid power distribution from the engine to the wheels. You can put a gear-lever into 'D' (Drive), and the car will do the legwork instead of you. The abovementioned torque converter functions here like a clutch in the manual transmission does. Automatic transmission fluid (ATF) helps lock and unlock planetary gears and arranges the best moment to shift gear ratios. Sensors on pedals, or the steering column, measure your driving style and adjust shifts according to it.
CVT and Dual-Clutch Gearbox
Good news: we've already covered all the bases about CVT and dual-clutch transmissions. Take your time to look into the following articles to enrich your knowledge. You can make the best decision on what's right for you when you're informed.
Automated Manuals
These are very rare among modern cars. Indeed, you won't see a clutch pedal in cars with automated manuals, but the overall experience will be more engaging. The driver of a vehicle equipped with an automated manual gearbox has more leeway when in command. This transmission provides the driver with an option of selecting gears without electronic's intrusion. Still, you'll be more likely to see such a feature on high-end sports cars like Maserati and Aston Martin.
What To Look For When Buying Cars With Automatic Transmission
The whole thing doesn't differ much from buying a stick-shift car. The only difference is that you'll have to carefully consider a few additional factors. They are as follows:
watch out for labels stating 'transmission damage' on stock pages as it can signal that a vehicle has been severely wrecked (still these are good and affordable sources for parts),
if you spot any viscous leaks under the car, it can be a warning sign since that vehicle may have worn or torn transmission hoses,
order a VIN history report to have a better understanding of what the automobile has seen during its life.
Moreover, we advise you to conduct a thorough in-person inspection if you have such an opportunity. Alternatively, you can ask a qualified technician to inspect the vehicle with you. It's by far the best way to be on the safe side.
Final Word
Buying cars with automatic transmission won't be a hassle if you team up with us. Salvagebid provides access to more than 50,000 cars, and we're ready to help your dream come true. You determine the prices you're paying for autos from insurance companies. However, we can do everything on your behalf if you just want to get a car from the comfort of your home. Take an opportunity to win your dream ride by registering with us, uploading a copy of your government-issued ID or passport, placing a refundable security deposit, and picking up a suitable membership to bid without restrictions. Contact us online or chat with us at +1 (360) 347-1300 (6:00 AM – 4:00 PM Pacific Standard Time, Monday to Friday).