The USA is the homeland for many automakers. Some of them are no longer on the market, while others continue making great, groundbreaking, and beautiful cars. The automotive culture in the USA is very unique and extensive, so American cars are famous and popular worldwide. American classic cars are well-known as well, since they amaze with their magnificent design and the advanced technology by the standards of their time. In this article, we've compiled the 6 best American classic cars available for sale on Salvagebid.
1965 AMC Ambassador 4-door sedan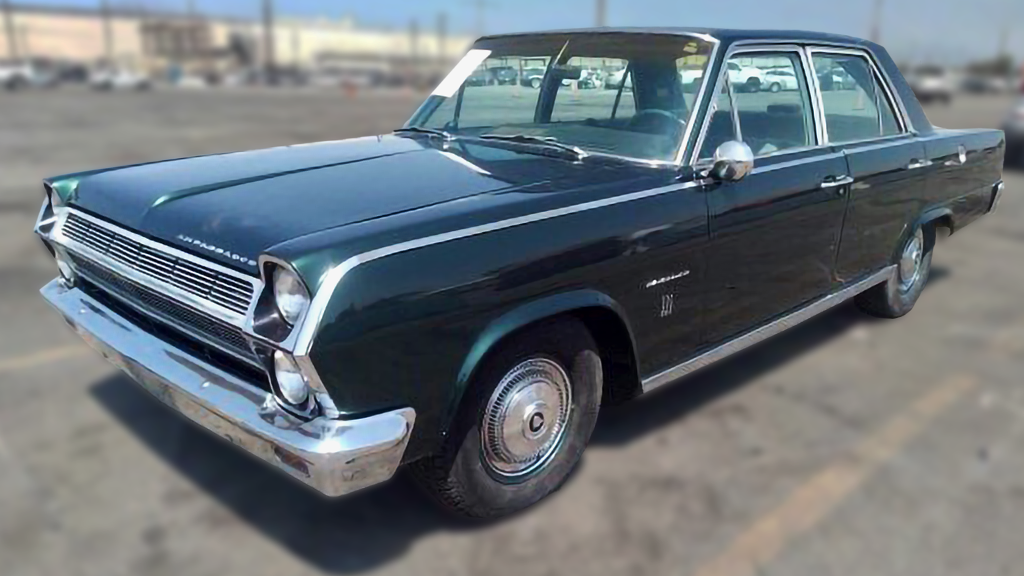 This Ambassador represented a new shift in the automaker's exterior design. The 1965 model year brought a whole new lineup of Ambassadors, consisting of two-door hardtops, convertibles, four-door sedans, and a four-door station wagon. The all-new 1965 AMC Ambassador had nothing in common with 1963-1964 models since the American Motors Corporation hired Dick Teague – a designer who was responsible for the overall styling.
In the mid-1960s, MotorTrend named the Ambassador "a strikingly handsome car" and today we couldn't agree more. This awesome AMC Ambassador is available with a $5,000 buy it now price.
1965 Chevrolet El Camino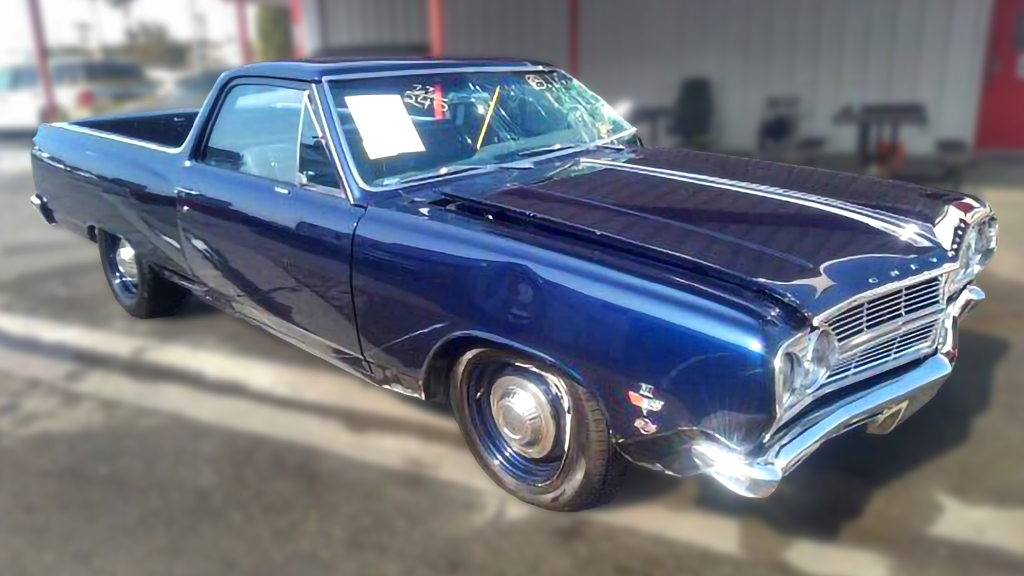 A unique combination of a passenger car and a truck, the Chevrolet El Camino was based on standard station wagons like the Biscayne and Impala with an integrated bed. The second generation of this pickup was released in 1964 and shared a chassis with a non-utility Chevelle. The 1965 model received an updated radiator fascia and a new molding on the bed. We're auctioning a 1965 El Camino with a 327 cubic inch engine: the most powerful available at the time when it was new. This clear title El Camino needs some serious repairs to get it road ready, and is for sale for $13,800.
1973 Chevrolet Corvette Stingray LS4 454 Sport Coupe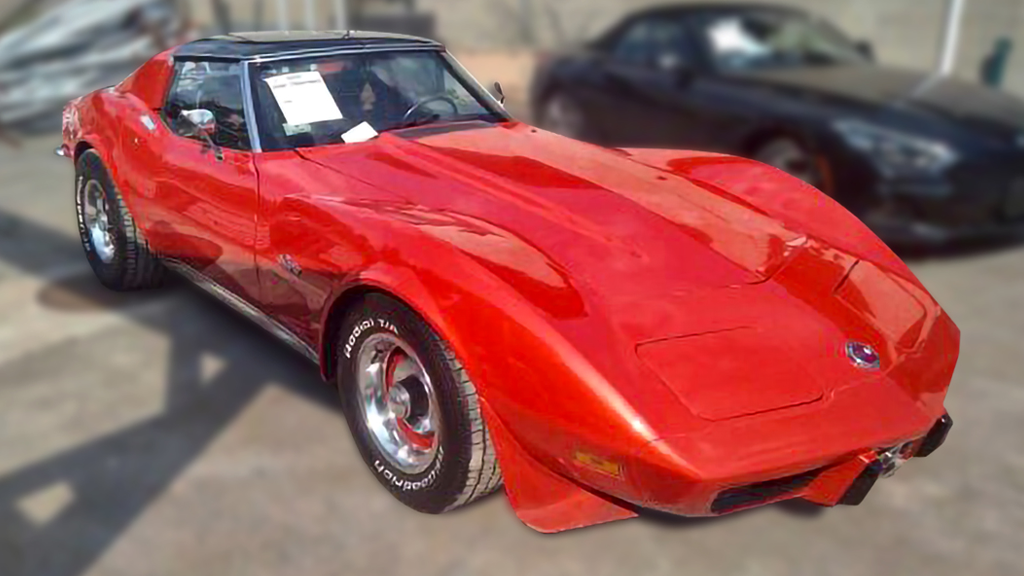 The Coke bottle styled Corvette is a legendary performance vehicle, and one of the best American muscle cars ever made. For the 1973 model year, the Corvette Stingray underwent a minor redesign and new urethane bumpers, front fenders, and mounts became available. For the first time, the Corvette was available with radial tires that were standard for all trims. This orange Corvette is a rare car, as it comes with the 454 Big Block engine which puts out 275 horsepower. One of 4,412 Corvettes with 454 engines built in 1973, this restored sportscar is a stunner. You can buy it now for $16,500.
1973 Plymouth Duster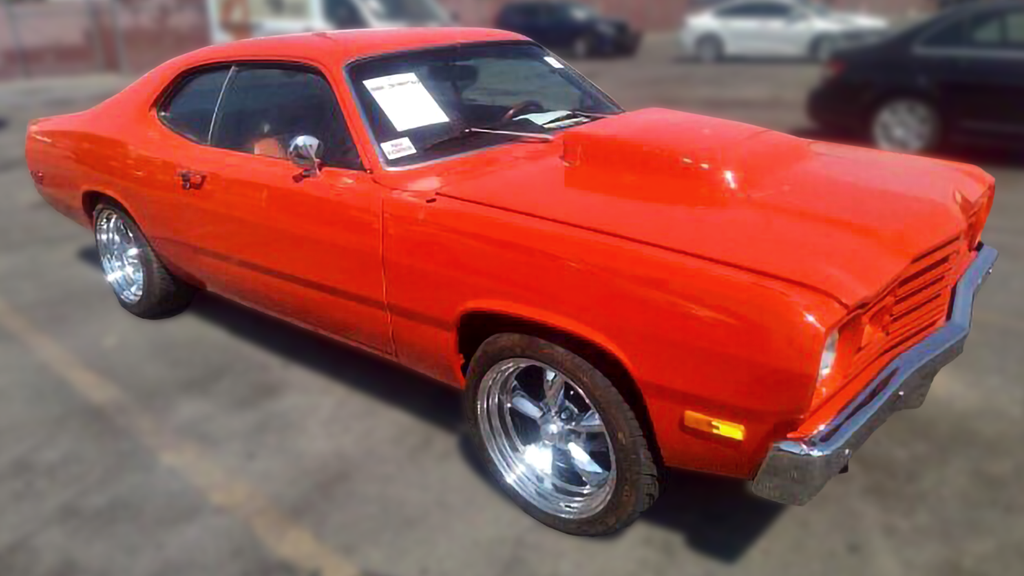 The sportier version of the Plymouth Valiant, known as the Duster, was available from 1970 to 1976. The 1973 model received chrome trim on taillights and new brake discs. This car has one of the funniest and most recognizable emblems – a stylized hurricane with the model's name. This heavily modified, run & drive verified Plymouth Duster has a clear title and some aftermarket parts. Up for auction on 9/8 from Fontana, CA: you can place your bid or buy it now for $10,000.
1977 Lincoln Continental Mark V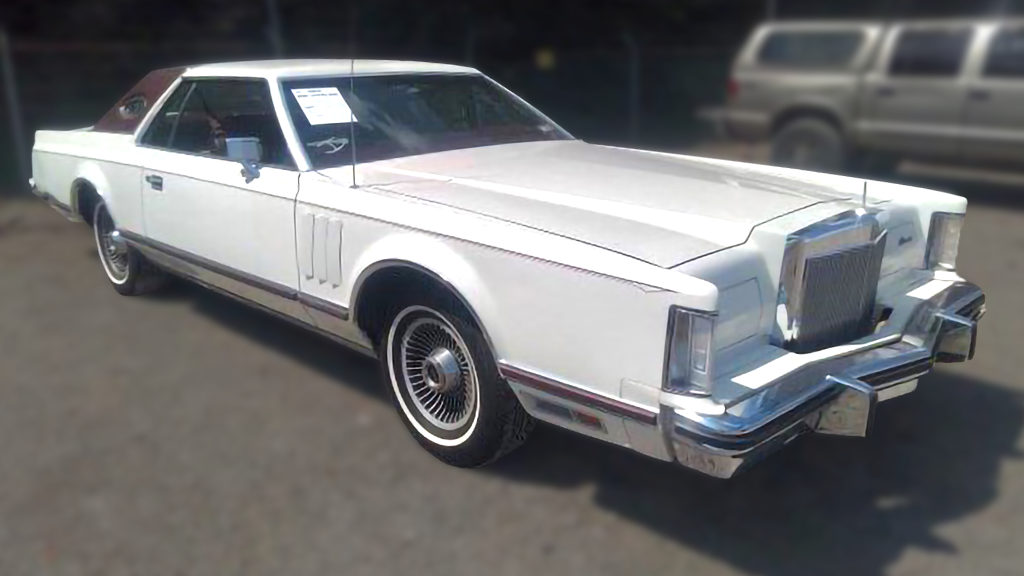 Ford's independent branch, Lincoln, is known for making luxury vehicles. At 230 inches long, the Lincoln Continental Mark V is one of the biggest luxury cars Ford Motor Company ever made. The fifth generation of this luxury full-size coupe was available from 1977 to 1979. Before the second oil crisis in 1979, this car set a sales record, becoming an absolute bestseller within the American luxury cars segment: 228,262 cars were sold in less than 3 years. This white 1977 Lincoln Continental Mark V will be auctioned off on 9/14 from New Philadelphia, OH.
1982 Cadillac El Dorado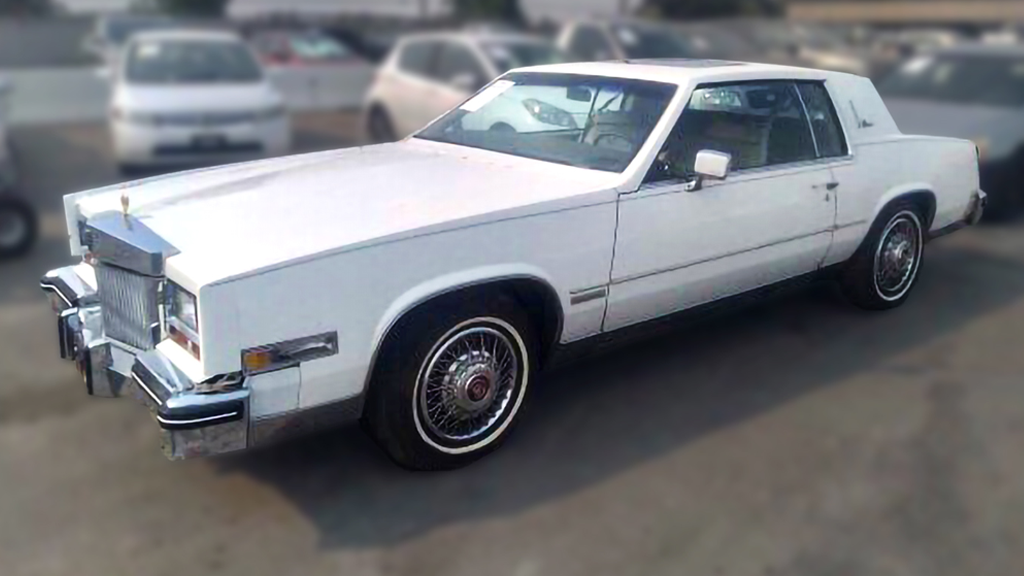 The Cadillac El Dorado was the flagship model in the automaker's lineup until 2002 when it was discontinued. Most modern cars don't provide the same level of comfort like the 1982 El Dorado did. The 1982 model came standard with power steering, a six-way power-adjusted driver seat, a button for remote trunk release, and electronic climate control. This white El Dorado is up for sale on 9/9 from Rancho Cordova, so place your bid or buy it now only for $2,900.
Wrap Up
These six cars are only a fraction of what we have in our constantly updated inventory. If you're searching American classic cars, start with our Vehicle Finder. Enter the year and model to find your dream ride. To start bidding right away, create an account with us, upload a copy of your government-issued ID or passport, and place a refundable security deposit. You can contact us online or give us a call at + 1 (360) 347-1300 (6:00 AM – 3:00 PM PST, Monday through Friday) if you have any questions.