At Salvagebid, we do everything we can to bring you the best online auto auction experience possible. From dedicated support to an inventory that's updated every single day, you can bid anytime, from anywhere. This fall, we're giving you an even better chance to win your next car, truck, SUV, or motorcycle from IAA with 30% off your year-long Salvagebid membership. Here's what you should know.
Salvagebid memberships
With a membership, you can purchase cars through Salvagebid, a trusted IAA broker. Our Starter membership is free and allows you to bid during preliminary bidding on any vehicle up to $3,000. You are only able to purchase one car with the Starter membership, and your transaction fee will be 10% with a $299 minimum. This is a great option if you're only planning on making a single purchase.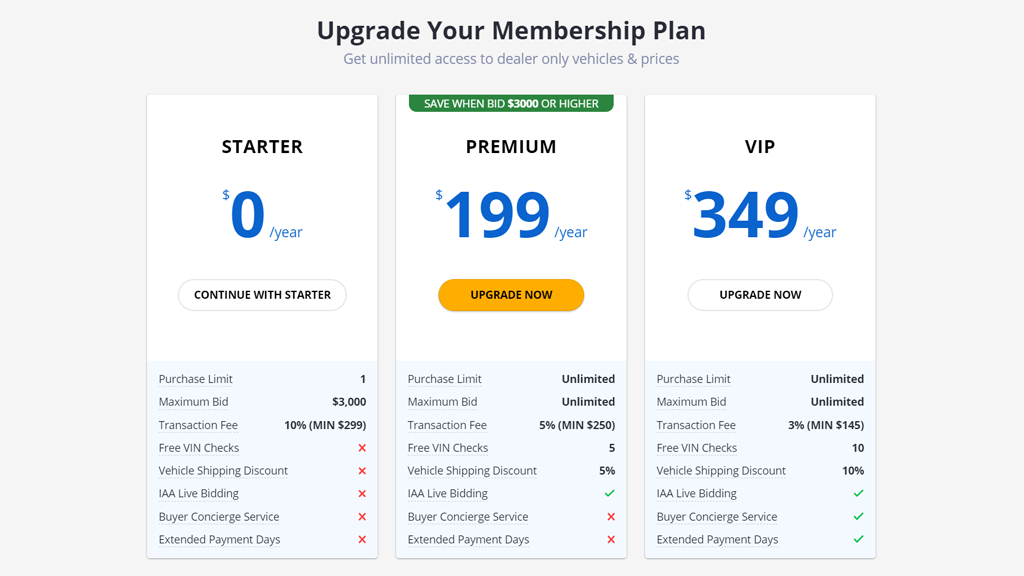 With a Premium membership, you can participate both in Preliminary and Live Bidding without restrictions on the price or number of vehicles you can purchase. Since it is essential to get car info by VIN when buying a car, you will also get a ClearVIN VIN Check Report, and your transaction fee will be lowered to 5% with a $250 minimum. Our shipping partner, EasyHaul, offers a 5% discount on the shipping price for Premium members, so you'll save on transportation expenses, as well.
Our VIP membership offers the biggest savings with the most benefit. Not only can you purchase an unlimited number of vehicles with a 3% transaction fee with a $145 minimum, but VIP members are offered a 10% discount on shipping services, 10 free copies of a ClearVIN VIN Check Report, and have access to live auctions. VIP buyers receive a buyer concierge service, so our representatives will help you with every step leading to a successful purchase. With the VIP membership, you have an additional business day to complete a wire transfer for your purchase.
Prices on memberships dropped!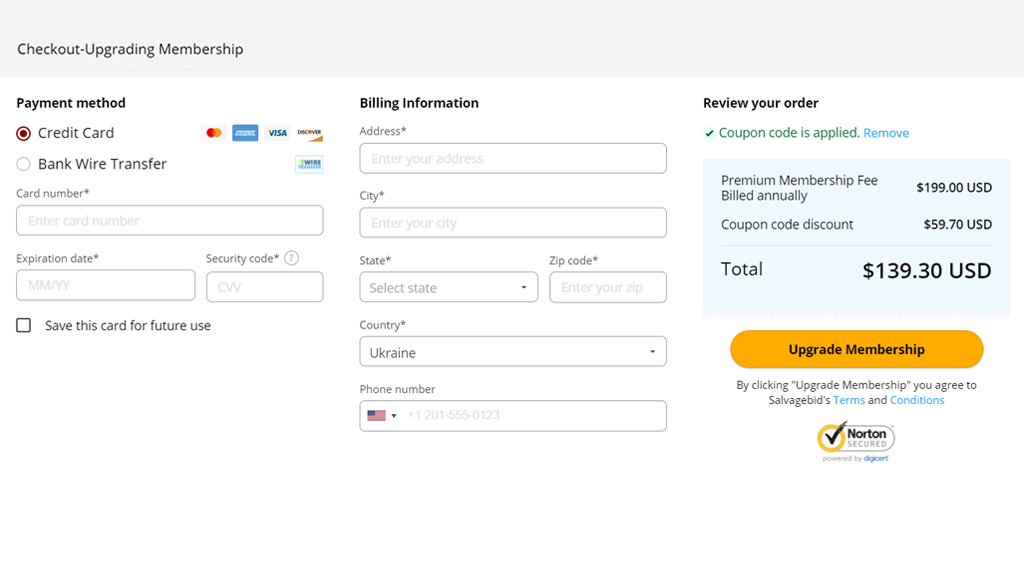 Don't skip the opportunity to get your membership with a 30% discount: create an account or log in using your Google or Facebook profile, and click the "Upgrade Membership" button. Use the code SAVE30 when you're checking out to get your discount. If you're all set to buy a car, look no further than Salvagebid. We have a variety of vehicles available, so you can start your search right away. Once you've decided on a car, log in to your account, upload a copy of your government-issued ID or passport, place a refundable security deposit, and upgrade your membership to bid and buy without limits. You can fill in our online form or give us a call at + 1 (360) 347-1300 (6:00 AM – 3:00 PM Pacific Standard Time, Monday to Friday) if you have any questions.