Sport-utility vehicles, commonly known as SUVs, have captured the hearts of car enthusiasts worldwide with their power and dependability. If you're considering purchasing a used SUV, it's important to keep long-term value in mind. While many SUVs offer a good balance of reliability and performance, not all of them maintain their value equally well. At Salvagebid, we invite you to explore SUV models that have demonstrated their ability to hold their value over time. Note that our ratings are based on the latest 2023 research from MotorTrend that reveals vehicles' resale value after 5 years of driving.
Our extensive inventory boasts a wide selection of well-maintained used SUVs for sale. With over a decade of expertise in the used car market, we are committed to delivering a seamless auto auction experience for our customers. Browse our listings and place bids on the vehicles that pique your interest.
Jeep Wrangler
Let's start with a famous, middle-sized SUV for off-road driving that has a striking style. This model comes in two-door and four-door versions and has great off-road capabilities. It also includes a detachable top and doors, several engine options, and a robust aftermarket for customization. The Wrangler mixes traditional styling with current amenities, making it an excellent choice for outdoor lovers and thrill seekers.
The Jeep Wrangler maintains up to 66.3% of its resale value after 5 years. The distinctive look of the Jeep Wrangler, tough off-road capabilities, and strong brand loyalty all contribute to its high residual value. It's a popular choice among adventurers who want to tackle off-road routes while still owning a vehicle that keeps its worth over time. Take a look at the Jeep Wrangler vehicles Salvagebid can offer you at its online car auctions.
Toyota 4Runner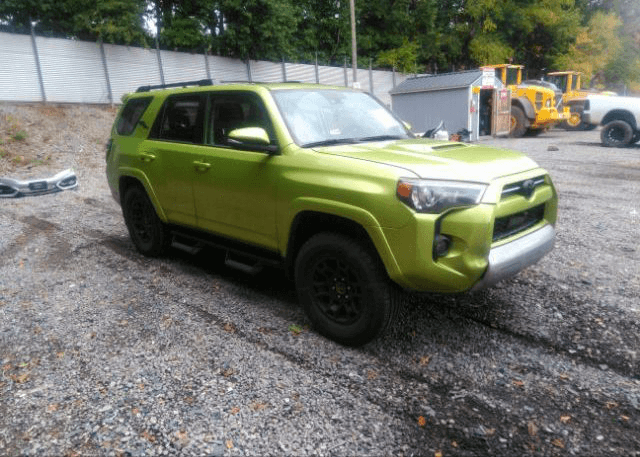 Here, we have a tough and versatile midsize SUV noted for its toughness and off-road capabilities. It's built for adventure, with a body-on-frame design, plenty of luggage room, strong V6 engine options, and a four-wheel drive. The 4Runner has a reputation for dependability and is a popular choice for folks who like outdoor activities and want a vehicle that can handle difficult terrain.
The Toyota 4Runner has continuously demonstrated a great resale value that reaches up to 61.9% of its initial price. Whether you're a weekend adventurer or just looking for a trustworthy SUV, the 4Runner is an excellent choice for you. To have this great vehicle at your home, register and bid on the Toyota 4Runner auction lots presented at Salvagebid.
Toyota Highlander Hybrid
The Toyota Highlander Hybrid is a midsize Japanese SUV that offers plenty of space, comfort, and economy. It has a hybrid powertrain that combines a V6 engine with an electric motor for greater fuel economy, making it an ecologically friendly option. In addition, the vehicle's resale value reaches 57.8% of its initial price after 5 years of driving.
The Highlander Hybrid has seating for up to eight people, a smooth ride, and a plethora of innovative safety and technology systems to ensure the comfort and safety of the entire family. It's a good choice for families looking for a more eco-friendly and practical SUV that doesn't sacrifice flair or performance. We at Salvagebid also have the Toyota Highlander Hybrid in our inventory, so you are free to bid on it and bring it home effortlessly.
Mazda CX-30
This sleek subcompact SUV balances functionality with athletic style. It has a comfy interior with high-quality materials and cutting-edge technology that improves both comfort and connection. The resale value of the Mazda CX-30 reaches 56.5% after 5 years, making it a great car to invest in.
The CX-30 gives a delightful driving experience, whether you're navigating city streets or enjoying the wide road, thanks to responsive handling and a choice of economical engines. This SUV is a flexible option for city residents seeking a balance of usefulness and modern looks. Take a look at the Mazda CX-30 vehicles available at our online car auctions.
Lexus UX
This premium subcompact SUV is recognized for its elegant look, upmarket interior, and refined ride. It blends a fuel-efficient motor with cutting-edge technology and safety features to provide a smooth and secure driving experience. In addition, you can expect 56.4% of the vehicle's value to be saved after 5 years of driving.
The UX model is a tiny yet adaptable SUV that appeals to people looking for a combination of luxury, urban agility, and economical performance. It's an excellent choice for drivers who value both luxury amenities and the mobility of a compact SUV in urban situations. By the way, Salvagebid also has some Lexus UX auction lots to bid on!
Acquire Your Next Vehicle with Salvagebid!
The used SUV market provides a wide range of options, and choosing one that retains its worth over time is a wise investment. These cars not only provide dependable transportation but also keep their value. With a selection of the best SUVs from Salvagebid, you can be sure your investment will be protected.
If you are considering buying a well-maintained SUV, there is no smarter solution than to take part in online car auctions at Salvagebid and win one. We invite you to register on our website and start bidding. If you have any questions or difficulties, our team is at your disposal! Call +1 (360) 347-1300 from 7 a.m. to 4 p.m. (Pacific Time) Monday through Friday, or email [email protected].