A suspension system connects a vehicle to its wheelbase, along with enabling a relative motion between them. The system usually consists of shock absorbers, linkages, springs, and tires, and it is important to regularly clean and maintain each part to prevent possible problems. Whether you own a vehicle or are on the hunt for one, it is advisable to brush up your knowledge about suspension systems as they play a key role in ensuring a smooth ride. Read on to learn more about a car's suspension system.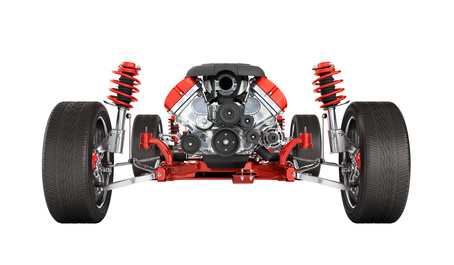 Dampers
Dampers are among the most vital parts of a car's suspension system. The mechanism of dampers is solely responsible for controlling or dissipating the jerks felt due to the bumps on the road. Although a spring also absorbs the shocks caused by on-road bumps, your vehicle is bound to bounce with each bump without a damper mechanism. Dampers, are therefore, an integral part of a vehicle's suspension system.
Springs
An important and integral part of a car's suspension system, springs allow a car to compensate for irregularities on the road. Another important function of springs are to support additional weight loaded on a vehicle. Springs are generally available in three types: coil, torsion, and leaf springs, each having their unique functionality and pros and cons.
Shock Absorbers
Shock absorbers, also called, shocks, help slow down the springing or bouncing action of the springs, along with reducing the intensity of vibrations. True to the name, shock absorbers basically absorb the energy or vibrations caused by road bumps. Absorbers are one of the many suspension parts that help ensure you have a smooth on-road experience.
Struts
A strut is another dampening mechanism that has similar functionalities as that of shock absorbers. A suspension strut or strut is a shock absorber that is, usually, mounted in a coil spring, combining two suspension parts in one. The basic aim of struts are to make sure the impact of spring forces is minimize. Struts also support the weight of a vehicle, and therefore provide structural support to a car's suspension system.
Anti-Sway Bars
Although anti-sway bars are not an integral part of a vehicle's suspension system, they provide additional stability to the vehicle. The drive, as a result of anti sway bars, becomes more levelled and balanced. Whether you are buying a new or salvage car, it is advisable to check the feasibility of installing anti-sway bars to make your ride more smoother and safer.
Wrap Up
Regular maintenance of suspension system is essential to make sure your on-road experience is smooth and comfortable. Inspecting the suspension system, therefore, is essential before investing in salvage vehicles listed at auto auction buy now websites. If you are on the hunt for salvage title cars for sale, SalvageBid has got you covered. We carry a vast inventory of salvage and clean title vehicles at affordable prices, bringing you a step closer to owning your dream vehicle. If you have any questions, fill out our contact form or call +1 (360) 347-1300.