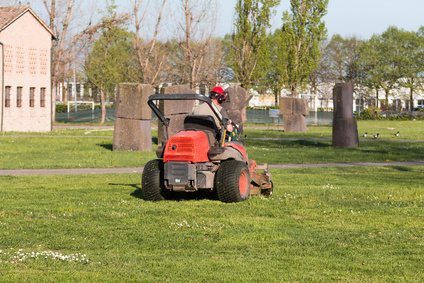 Lawnmowers are a big convenience for owners of commercial or residential properties with considerable gardens or lawns. Maintaining a lawn is a difficult task in itself, and opting for a mower makes maintenance easy and meticulous. A riding mower helps keep efforts to a minimum, especially on graded areas of the lawn. Buying industrial equipment, such as a lawnmower, demands research on the buyer's part. You need to consider factors such as the power consumption and pricing. If you are looking to buy a lawn mower on a limited budget, you can find affordable and suitable options at industrial equipment auctions that provide salvage industrial equipment for sale. Let's take a look at five of the best lawnmowers to get your search started.
Husqvarna YTH21K46
The Husqvarna YTH21K46 has a Kohler manufactured two cylinder 597cc engine producing 21 horsepower. It features a 46 inch air induction deck width and two cutting blades for optimum cutting performance. The Husqvarna YTH21K46 is one of the best riding lawnmowers on our shortlist. It comes with a hydrostatic transmission, offering smooth, variable forward and reverse movement. The mower has a 15 inch high padded seat back with slide adjustment for maximum comfort, and a padded steering wheel with an ergonomic design and perfect angle for driver positioning.
Cub Cadet LTX 1045
The Cub Cadet LTX 1045 is suitable for small lawns, with tricky areas of grass. The lawn mower comes with a solid engine that produces 20 horsepower, and a large mower deck housing adjustable twin blades for a precise and consistent cut of the lawn. Other features include large hydrostatic-drive foot pedals and expert fine-tuning between the engine and transmission, for a 12-inch turn radius. The mower comes with excellent safety features and is comparatively cheaper than other options on the market.
John Deere D110
The John Deere D110 comes with an engine that produces a 19 horsepower and has an impressive 42 inch deck for superior cut quality. The model comes with a quick start, an affordable hydrostatic transmission and two pedal foot control for easy maneuverability. It works best on lawns with small inclines, rocks, and prominent roots. Safety features include a large lever on the left-hand, which comes handy when the mower may need special control around the rough bushes.
Craftsman YT 3000
The Craftsman YT 3000 cuts grass precisely and easier than most lawn mowers, courtesy of its powerful engine, which produce 21 horsepower and has a 42 inch precision cut mowing system for a wider cutting area. Other features include four adjustable gauge wheels, premium hydrostatic automatic transmission, spring loaded deck lift system, and a automotive-type slide seat system. The lawnmower rates good on the pricing meter, as it is more affordable than other lawnmowers on the market.
Must Read: 3 Areas to Focus on When Participating in Industrial Equipment Auctions
Way Forward
Lawn mowers are a big help when it comes to maintaining the outdoor aesthetics of your residential or commercial property. If you are looking for an affordable lawn mower, you can find a wide selection at salvage Industrial Equipment Auctions online by SalvageBid. We offer a large inventory of salvage industrial equipment in optimal working conditions and allows you to bid in the comfort of your home or office. To know more on our selection and bidding process, call us at (360) 347-1300.