If you are in love with the winter atmosphere, snowfalls, and Christmas holidays, then spending your time actively, including doing winter sports, is your best option. Many people choose a snowmobile as a great way to enjoy the outdoors. Each snowmobile model has its own benefits and drawbacks. However, after analyzing the most important parameters, features, and technical specifications, you can choose the vehicle that will become your irreplaceable assistant in harsh winter conditions.
In this article, the Salvagebid team invites you to a discussion on how to choose a well-performing and reliable snowmobile. We have also listed a few options that can meet different requirements. So, let us look at how to buy a snowmobile that will meet your needs and serve you well.
A Brilliant Beginning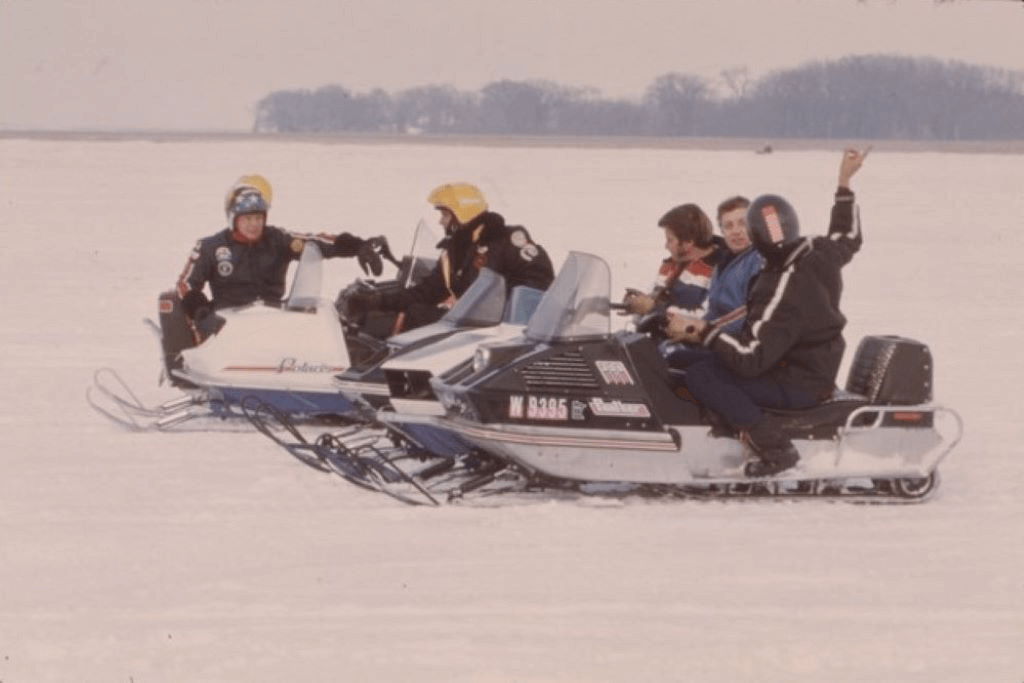 In 1959, the first snowmobile appeared in Canada. The engineer Joseph-Armand Bombardier invented it. From the very beginning, demand for snowmobiles began to outstrip supply, which meant that the invention would gain skyrocketing popularity. Today, the snowmobile has moved into the spheres of tourism and entertainment.
However, Bombardier could not have imagined the scale of his childhood dream or how the vehicle would influence the human lifestyle. He was thinking even less about the fact that a new form of transport would become a springboard for new winter sports and entertainment. As a result, snowmobiles are used by many tourists and hunters in their outdoor activities. Lovers of just having fun in nature have mastered this type of vehicle too.
Types of Snowmobiles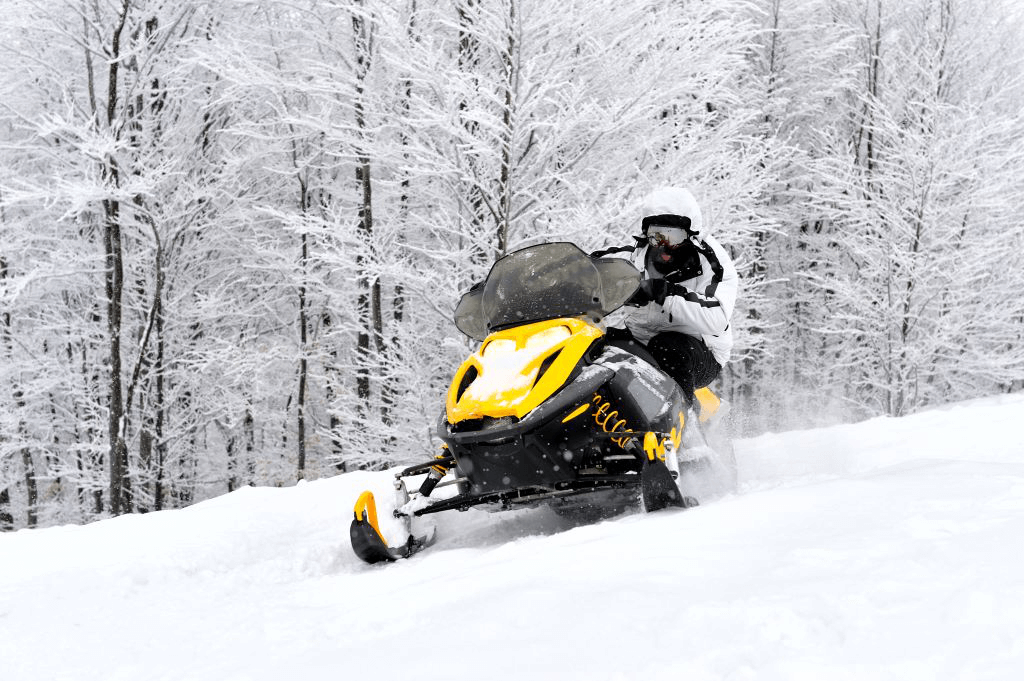 Snowmobiles can be divided into four classes as follows:
Sport Snowmobiles
The sport snowmobile design involves no extra and unnecessary parts or elements. The construction includes a short single seat and no trunk. To ensure high reliability, the vehicle frame is usually made of light aluminum. As a result, such a snowmobile weighs a little more than 440 lbs (200 kg), which is one and a half or even two times less than cars of other classes.
A distinctive feature of the sport snowmobile configuration is its relatively short track, which makes the vehicle nimble and easy-to-drive. A reliable and well-performing engine with a capacity of up to 170 hp is able to accelerate the machine over snowy areas up to 125 mph (200 km/h). The suspension of these snowmobiles is rigid and adapted to high loads, which makes it possible to go over bumps and jumps at high speed.
A separate niche is occupied by so-called crossover snowmobiles — powersport vehicles for harsh winter conditions, equipped with a powerful engine, high maneuverability and passability on snowy tracks, loose snow cover, jumps, and ice fields. Crossovers provide optimal performance parameters and controllability for active winter recreation.
Tourist Snowmobiles
A special tourist snowmobile is suitable for comfortable trips in snowy areas. Such vehicles are usually equipped with a high windshield that protects the driver from oncoming cold air currents and a long, soft seat on which 2–3 people can comfortably sit. In the back, tourist snowmobiles usually have a trunk where you can place your luggage. Manufacturers also equip these machines with such useful and pleasant options as heated steering handles and seat backs.
Furthermore, tourist snowmobiles differ from sport configurations by having a longer and wider driving track, which provides them with high passability rather than speed. It means the tourist configuration can easily overcome deep snow, whereas a sport snowmobile, moving on its short and narrow track, risks becoming stuck.
In the class of tourist snowmobiles, there are machines of such well-known brands as Yamaha, Viking, and Venture. They are distinguished by an improved engine with its power of 170 hp, and it works silently. Adjustable seat backs and a heated steering wheel are two additional benefits provided by the aforementioned brands.
Utility Snowmobiles
These snowmobiles are constructed to deliver goods and other cargo to hard-to-reach winterized areas. They have less powerful engines, wide and long tracks, trunks, and towing devices. Utility snowmobiles are usually manufactured in two-seater or three-seater configurations. As a rule, all such machines also have a steering wheel heating system, a rear gear, and an electric starter. Among the well-known brands, Polaris sells high-quality utility snowmobiles on the market.
The main advantages of utility snowmobiles are high reliability and passability. Their tracks have the maximum width among such vehicles. It allows travel through the deepest and loosest snow.
Mountain Snowmobiles
Some specialists also outline this group. However, their technical characteristics are quite similar to those in the utility version. Mountain snowmobiles have only one seat, a powerful engine adapted to driving in difficult weather conditions, and long, narrow tracks. As you might guess, people use such models to overcome mountain landscapes and significant snow surface coverage.
What to Pay Attention to When Choosing a Snowmobile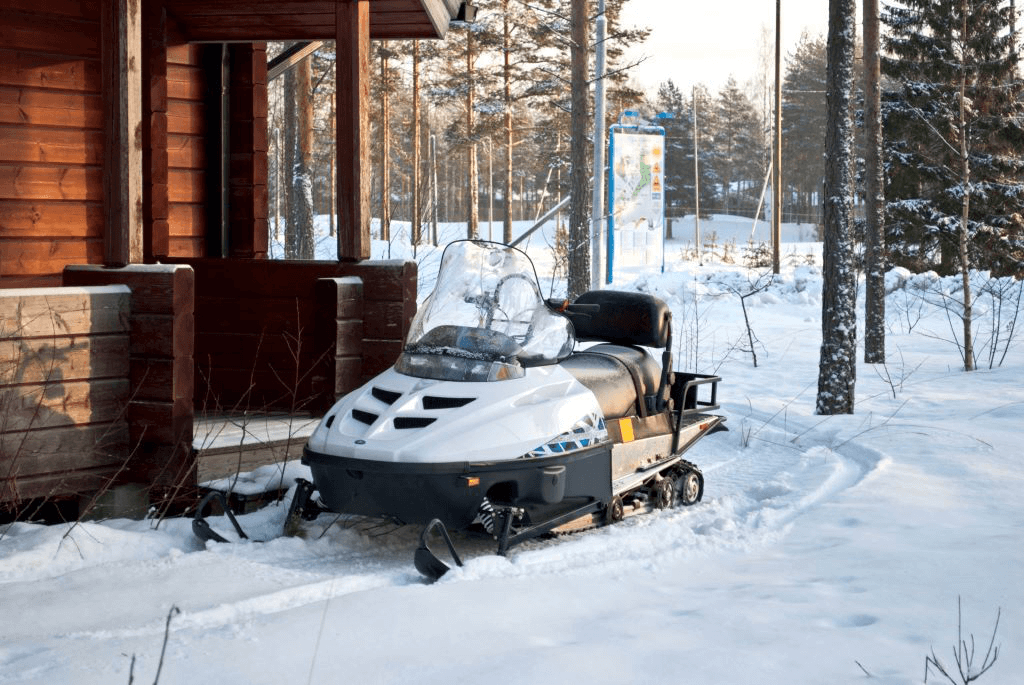 First, you have to decide for what purposes you need this vehicle. It helps to define a set of tasks that will be solved more often with the help of a snowmobile.
As previously stated, utility configurations are the best options for work. Reliability, numerous luggage compartments, and the highest cross-country ability are vital factors for a vehicle in the conditions of the North, where a snowmobile is not for fun but a necessity. Moreover, utility snowmobiles are also suitable for such purposes as fishing and field hunting.
Sports snowmobiles are intended for extreme driving and racing, but for them, you need to find a suitable rammed track since these models have low terrain capability.
If we speak about families, tourist or utility configurations are the best options to choose. Massive and comfortable snowmobiles, which are the most reliable and safe, are suitable here. In addition, such machines with a long seat and a large trunk can be recommended for family journeys. Thanks to the wide track, they have excellent passability. However, they are better to use on paved tracks.
We can also mention a few simple recommendations on buying a snowmobile, which are often neglected. First, find a way to talk about the details with someone who is knowledgeable about this type of equipment before you buy.
When buying a used snowmobile, consider its general condition. Check for the presence of dents, scratches, and other signs of collision. Also, inspect the tracks. They should not be frayed or punctured by spikes. Pay close attention to the ground lugs integrity, traction, and engine compartment. A great idea is to ask for diagnostics at a specialized service center.
Choose snowmobiles from proven brands. After all, a brand is a guarantee of safety. As a rule, before entering the market, each model undergoes multi-stage tests that guarantee the full safety of the driver and passengers.
Summing Up
Snowmobiling is a great mode of winter transport, particularly when it comes to difficult-to-reach areas and complicated weather conditions. It can also provide a significant amount of adrenaline, making your winter leisure time exciting. Remember that it is necessary to complete a specialized training course before driving a snowmobile.
We at Salvagebid not only provide useful automotive information but also offer you the opportunity to take part in our online auto auctions. In the inventory, we have well-performing snowmobiles in good condition and at affordable prices. To get one, sign up on our website, and then you are free to bid! Our customer support team is happy to help any customer. You can call us at: +1 (360) 347-1300 from 7 AM to 4 PM (Pacific Time) Monday through Friday, or email [email protected].