The online car auctions present a convenient way for used car buyers to buy a decent car at throwaway prices. Once you have bought a used car, you would want to spruce it up a little such that it looks and feels like a brand new. Worry not! We have listed a few steps below that you could follow to give your car a complete makeover.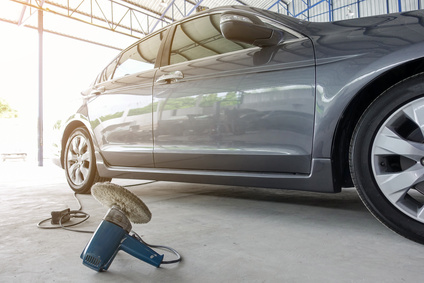 1. Scrub It Squeaky Clean
What we are suggesting is not a quick brush-up, but a deep cleaning of every part in the car that you can reach. Shampoo the carpet, get the upholstery cleaned, excavate the trash in the trunk and pick up all the sad potato chips left behind over the years. In fact, we would suggest you to approach an auto-servicing professional so they could give your car a full service. They will do a great job at removing stains, grime and the foul smell.
2. Upgrade The Electronics
Even if you bought a car that is just a couple of years old, chances are that its audio and navigation systems are outdated. If such is the case, you should consider investing in a sound system that is compatible with your new devices and offers you the best possible commute entertainment.
3. Get A Paint Job Done
One of the main reasons a car looks old is because the paint wears out on the exterior and the interiors begin to fade-out or turn greyish because of the Sun. Get an estimate for a paint job to make your dull, worn-out used car undergo a complete transformation.
4. Get The Wheels And Tires Fixed
The tires and wheels of a car can improve both – the performance and the appearance of a car. If you think your car's tires or wheels need replacement, then go for wider tires and wheels with a bigger diameter. While the new set of tires will definitely improve the performance, the bigger wheels with wider tires will improve the appearance of your car, too.
5. Get the AC Serviced
Getting your car's air conditioner serviced at regular intervals not only helps keep the car cool, but it also helps avoid any major repairs at a later date. With the passage of time, the AC in your car may lead to buildup of bacteria, dirt and mould. You must, therefore, get the filters cleaned regularly. You can also invest in an air-conditioning deodorizer to give the car a fresh fragrance.
Looking for a Used Car?
Buying a used car is a great way to save some good money. If you are looking for a used car, buy from SalvageBid, one of the best online car auction sites in the US. Use our state-of-the-art Vehicle Finder to narrow down the cars from our inventory, and get what you exactly need. To check available options, click here. For more information, speak to one of our representatives at +1 (360) 347-1300.