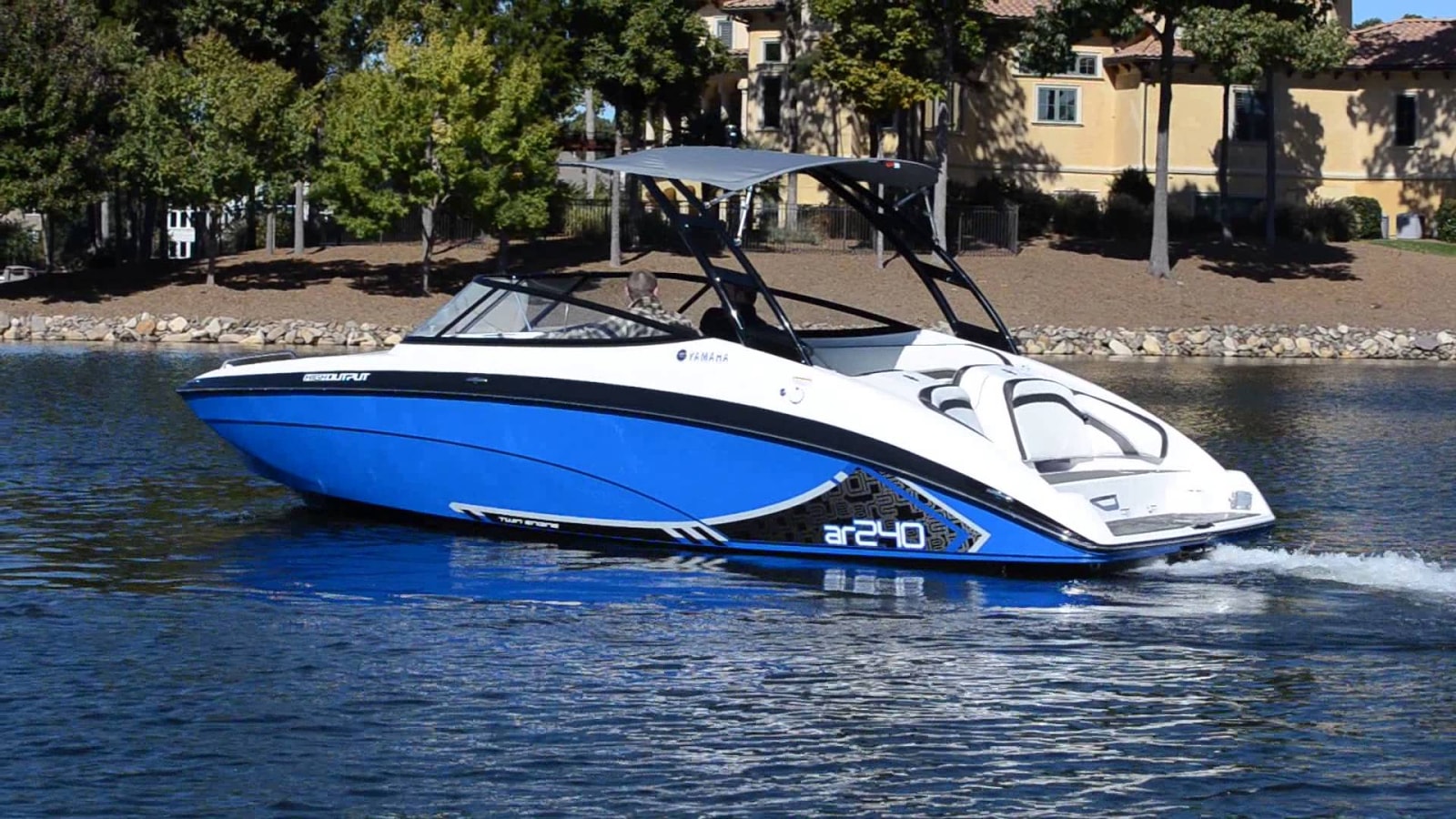 Whether you're looking for a new, pre-owned, or salvage boat for sale, the 2015 Yamaha 240 Series deserves your attention for many reasons. It comes with major improvements over the previous 240 Series, a majority of which work to maximize passenger comfort. Engineered on a new 24-foot hull form, the 2015 240 Series empowers you with a 1.8-liter, 180-horsepower, four-cylinder engine that comes standard on all four models. The reliable engine delivers leading-class performance, with benefits including low maintenance and better fuel efficiency. Here are four areas where the 2015 Yamaha 240 Series beat its predecessors.
Cabin
Although the previous 240 Series makes for a fun ride and value-for-money proposition for many anglers, it lacks in one area. The cabin is noisy and when you're cruising at high speeds, it can be impossible to talk. The new 240 Series, on the contrary, are quiet like a sterndrive-powered runabout. While the models produce around 66 dBA of sound in the cabin at 2400 rpm, old models produce around 75dBA. Again, at 5500 rpm (31 mph) the old and the new boats produce 92 dBA and 88 dBA respectively. Quite a difference, as you can see.
Yamaha managed to decrease cabin noise through:
Better sealed engine bay
Thicker insulation under the engine hatch
Redesigning of the jet pump shape for less turbulence
Improvement in liner design
Tracking
The 2015 240 Series also offers a new hull shape and a feature known as the "articulated keel extension", which together help deliver immediate steering responses, exceptional straight line tracking, and maximum control in low speed maneuvering. In the absence of such features, you need to constantly change your course to keep the boat on track, especially when cruising through long no-wake zones. Note that riding a boat in a no-wake zone is difficult, but the "articulated keel" on the 2015 240 Series functions like a rudder. The only difference is that it doesn't project below the hull.
Comfort
The basic layout of the 2015 240 Series remains the same; however, there are more than a few improvements engineers at Yamaha have thoughtfully introduced to maximize comfort. These include bench seats around the cockpit, bucket seats in the console, and a port seat that you can pivot at 180 degrees to face the stern. There's a new port-side console, with a head/stowage compartment. The compartment has room for a portable head (toilet). In addition, you also have a new wet-gear storage compartment to accommodate ski vests and fenders.
Technology
One of the biggest improvements the 2015 240 Series brings to the table is the inclusion of a helm console. Known as the Yamaha Connext, it's a seven-inch touchscreen display that replaces the switches and other things required to run the boat. The center of the dash has tachometers, and the rest of the screen displays battery voltage, fuel level, engine rpm, and speed. The Connext, with bluetooth and USB connectivity, takes care of all your entertainment needs.
Conclusion
The 2015 Yamaha 240 Series offers many interesting features to beat its predecessors. That, however, doesn't mean that Yamaha's previous models don't offer a good value for your money. Most Yamaha boats, be it a runabout, pontoon, or a fishing boat, offer a good bang for your buck, especially if you're starting out with boating. At Salvagebid, you can find various types of Yamaha boats in our salvage boat auctions at a fraction of the cost of their new counterparts. To learn about your options, check out our inventory here. If you wish to speak to one of our representatives, call us at +1 (360) 347-1300.