Buying new tires for your old car or the one you recently bought from an online car auction, is not as easy as it sounds. The type of tire you choose for your car, plays a key role in determining its overall performance, in the long run. Wrong choice of tires may, however, impact your vehicle's fuel efficiency, riding quality, and of course tires durability. There are various factors that you need to consider, to ensure that you are investing in the right set of tires. In this post, we discuss several key factors that you must consider when shopping for tires. Read on.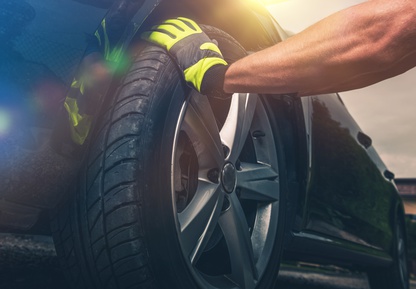 Type
HT (Highway Terrain)
Highway terrain tires, as the name suggests are designed for smooth/paved roads. Also, HT tires are relatively quiet, stable, and long lasting, which make them perfect for daily city driving.
AT (All Terrain)
AT tires are ideal for both paved and unpaved road driving. Their tread design is more rugged than HT tires, which makes them suitable for off roading. Such tires are a preferred choice of SUV owners, because of their appeal.
MT (Mud Terrain)
MT tires are the sturdiest ones with aggressive tread design. These tires are the best choice for your vehicle, if you usually traverse through the unpaved roads or farms or mountains. These tires, on the other hand, are noisy and uncomfortable for daily commute on paved roads.
MS (Mud & Snow)
MS tires are easily identifiable by their large and widely spaced tread blocks. They are ideal for off-roading and regions where it rarely snows and the winter temperature is mostly mild.
Winter Tires
If you live in a region where winter temperature is usually below 45 degrees F, and face frequent/ severe snowfall, it is advisable to invest in winter tires. Look for mountain or snowflake symbol on the sidewall of the tire. That said, winter tires are not ideal for year-round use, as the softer rubber of winter tires wears out faster in warm weather than all-season tires.
Width
The width of tires helps in determining the riding quality of your vehicle. Though the wider tires offer better grip, stability, and traction, they lowers fuel efficiency and may also affect turning radius of the vehicle. You can learn about the width of your vehicle's original tires by referring to the first three-digit number inscribed on the tire sidewall or on the label located on the driver's doorjamb, glove box lid, or inside the fuel hatch.
Aspect Ratio
A tire's aspect ratio, often referred to as the profile or series, determines the height of the sidewall. It is a percentage of tires' overall width. For example, if your vehicle's tire belongs to 70-series, it means the height of tire's sidewall is 70 percent of the tire's overall width. Though low profile tires offer better ride quality, they are not advisable for rough terrain and also they produce more road noise than high profile tires.
Speed Rating
Speed rating tells you the maximum speed capability of a tire. Speed ratings range from Q(lowest) to Z (highest), but with one exception – 'H' rating, which falls between U and V and signifies the speed capability of tires i.e. 130 mph or 210 km/h.
Wrap Up
If you are planning to replace the tires of your old car, or the one recently bought from a salvage car auction online, make sure you consider mentioned factors when purchasing new tires. In addition, consider tires warranty and load carrying capability, before putting down your money. If you are yet to own your first ride, explore our online car auctions featuring salvage cars for sale and we are sure you will find a ride worth your time and money. To learn more about any of the repairable salvage cars for sale listed with us, fill out our contact form or call +1 (360) 347-1300, Mon – Fri (6am – 4pm PDT).