A crawler tractor is the muscle behind many road construction and building projects. If you are planning to start a construction business or want to expand the existing one, buying a crawler tractor should be an indispensable part of the plan. The useful industrial equipment, however, comes with a hefty price tag, and when budget is a constraint, we recommend you to go for a used or salvage model. To help you buy the right product from industrial equipment auctions, we list the critical areas to look at when performing visual inspection.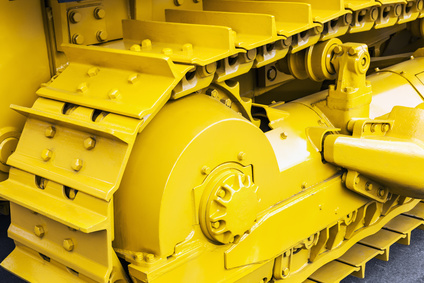 Blade
There are different types of blades for crawler tractor with each having a specific usage. The inspection tips for every type, however, remain the same.
Check the face of the blade for plate lines. Visible lines are an indication that blade was refaced because of excessive usage. Also inspect the top of the blade, corners and bottom sides for signs of welding or rust.
Check both the push arms for signs of rust and scarring. If there's a lot of space between trunnion and cap or the cap is loose, it could mean excessive wear.
Check the undercarriage for uneven wear as some operators favor steering the equipment to one side or might use the tractor for a sidehill application.
Track Condition
Check the thickness of the steel to figure out the condition of the track. You need to look if there's any scalloping on trackpads by assessing pad width and grouser height. If the grouser bar is in level with pad bolts, there might be a need to either rebuild or replace trackpads.
Leaks

Look for leaks on final drives, cylinder and under the machine. If there are no visible signs of leaks, inspect the internal compartments including hydraulic, battery and engine. Another important step is to check the dipstick for water to find out if there is any sign of an internal leak.
Operation

It is important that you turn the crawler tractor on to find out if it starts easily or there is any noise coming from engine or turbocharger. Also check the electrical system of the tractor, which includes – gauges, warning lights, monitor panel and batteries.
What Else to Look For?

Apart from internal and external inspection, there are a few more factors to consider before making the purchase decision.
The power generation capacity of engine enables the tractor to perform different levels of a job, be it working at a rugged construction site or pushing tonnes of heavy dirt uphill. If you want a powerful machine, look for the one with 449 HP or higher range.
Make sure that the equipment meets emission guidelines and standards.
Look for an equipment with heavy-duty steel components and plates as this would define the durability of the machine.
Wrapping Up

Whether you are looking for a small, medium or large track crawler tractor, you will find affordable options at Salvagebid. Make sure that the machine is easy to operate, powerful enough to move heavy loads and made of durable material. You can bid for used crawler tractors at our live auctions and save a significant amount of money. For more information, call +1 (360) 347-1300.