Off-roading trips are fun, but only if you are prepared for the unforeseen. As offroading involves negotiating the most rugged of terrains, the chances of mishaps are high. To make sure that these mishaps don't end up putting you in a difficult-to-deal-with situation, you must stay prepared for every possible scenario. So, what is it that you must do to avoid a potentially trip-ending mishap? To help, in this post we list seven basic items every offroading enthusiast must have on an off roading trip.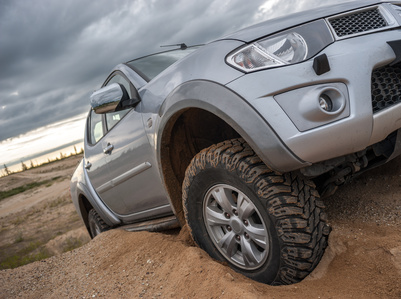 Tool Kit
That's a must for every off-roader. Keep a ⅜ inch socket set as the ¼ inch set may not be strong enough. Your tool kit must have the following items – Channellock pliers, breaker bar, vice grips screwdrivers, extended bars and most importantly a hammer.
Tow Strap
When on an off roading trip, it's not surprising to find yourself or a fellow off roader stuck in the mud. In a situation like this, what you need the most, is a heavy duty tow strap. Choosing a tow strap can be confusing as you may not be sure of the strength you need. A good idea is to get a tow strap with a breaking strength that's around three to four times the weight of the vehicle that needs to be towed.
Lithium Jump Starter
What if your truck's battery dies on you in the middle of the road and you don't have a mechanic around? Well, this little power brick will help you bring back your truck's battery to life. All you need to do is – make sure that the jump starter remains charged enough. Just in case, you aren't carrying a jump starter, don't forget to carry a pair of conventional jumper cables with you.
Tire Repair Kit
Your truck's tires are the most affected parts of your truck when you go off-roading. Being an important part of your vehicle, and owing to the possible lack of availability of tire repair workshops during an off-road trip, it's advisable to carry a tire repair kit to help you fix a flat tire. If you are worried about how to fix a tire using the kit, then don't be, because it's not that difficult.
Air Compressor
You don't just need an air compressor for a flat tire, but you would also need it to vary the air pressure in your tires, depending upon the path you take. For example – when travelling on roads laden with snow, sand or mud, the air pressure in your tires can go as low as eight PSI. The pressure, however, can't be that low when you are on a rocky terrain, as there is a risk of the tires getting damaged.
Traction Mats
If you don't have a tow strap, or don't have a vehicle that can tow your vehicle out of the situation that's got you stuck, you can use the traction mats to get you out of the problem. Simply place these mats under the tires and they will give you the required grip. These traction mats don't just work well in mud or soft sand, but they can easily get your vehicle out of snow, too.
Navigation App
Using a paper map to find out which way to go on an off roading trip is a pain. Unless, you are a maps expert it would be difficult to tell what direction you are supposed to take. To avoid the pain, install a quality navigation app that helps you track your location in real time and guides you which way to go.
Conclusion
If you are looking for an affordable truck to go on a weekend off-roading trip with friend, or you need a truck for your business need, we at Salvagebid, an online car auction site, can help you find what you need. We have an extensive inventory of trucks of different makes and models allowing you to buy a salvage trucks for sale at highly competitive prices. You can go through our cars for sale auction site and register to start bidding on available trucks and cars for sale . To learn more about our bidding process and other information, call us at 360-347-1300.