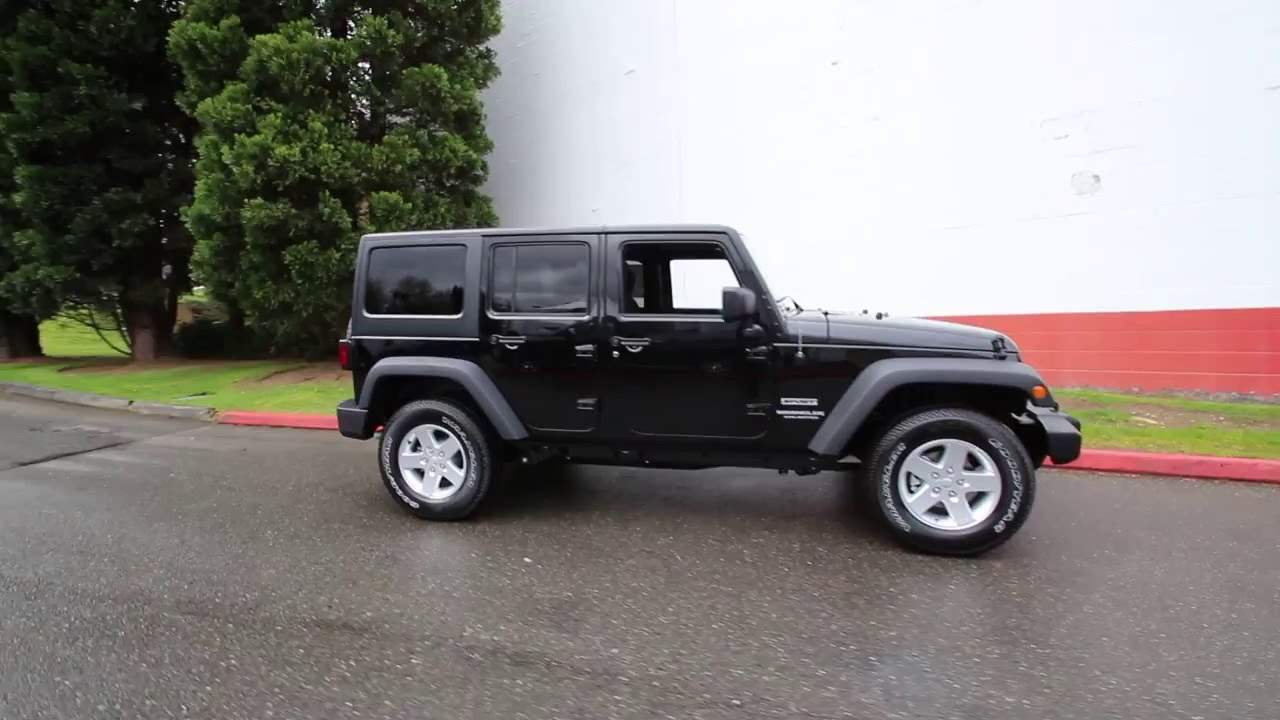 Jeep Wrangler is a vehicle that needs no introduction. You may try, but we are sure you won't be able to resist looking at this unabashedly automotive icon, twice — especially if the one crossing you is a 2016 variant. The Wrangler legacy dates back to 1986, when this hallmark of automotive engineering was first introduced to auto enthusiasts, and like they say, the rest is history. If Jeep Wranglers are your calling, this blog post is dedicated to you! Read on to learn more about the latest variant of this all-American legend.
Neighbor's Envy, Owner's Pride!
"Jeeping is the art of getting dirty and going broke while slowly heading nowhere and taking all day to do it." 2016 Jeep Wrangler is a dream ride for everyone who can relate to that type of fun. Take beast for a spin and you will experience what we are talking about! Remove the roof panels, take off the doors and fold the windshield, to expose your senses to the magical healing of Mother Nature. The vehicle is designed to cover long distances without any complaints, which makes it a perfect companion for those who are smitten by wanderlust.
Highlights
2016 Jeep Wrangler, with equally impressive interior and exterior, is a sensibly balanced machine. Here are some of the features that make it a cut above the rest:
Best-in-class Horsepower: This all new and modified version of Jeep Wrangler boasts a powerful and efficient 3.6L, 285 horsepower, V6 engine that can pump out 260 pound feet of torque for low-speed crawling.
Four Wheel Drive: This feature comes standard in the Wrangler Sport. It not only lends the vehicle exceptional off-road capabilities, but also gives you best-in-class winter performance, by electronically distributing power to the wheels.
Rugged yet Plush Interior: The 2016 Wrangler comes with ample storage space, thoughtful ergonomics and noise isolation. The vehicle also packages numerous plush features, such as leather-trimmed seats, illuminated cup holders and auto-dimming rearview mirror.
Underbody Armor: This helps protect the vehicle's critical components, especially on hostile tracks. This is a particularly useful feature for those who can't help but take the roads less taken.
Command-Trac and Rock-Trac Systems: The Command-Trac system equally distributes the torque between the front and rear axles, when the vehicle is off-road or in case of the conditions demanding more traction. The Rock-Trac system helps deliver more control and torque at the wheels to let you point your vehicle anywhere you want.
Distinct Styling: With an upscale, intriguing stance, the 2016 Wrangler is super stylish. The highlights include flender flares, iconic seven-slot grille and removable doors and top, which make the 2016 Wrangler all the more fun to own and drive.
Limited Budget? Buy a Salvage Jeep for Sale!
Once you have made up your mind to grab one 2016 Jeep Wrangler, money should be the last thing to keep you from your dream ride. If you wish to own a Jeep Wrangler, Salvagebid.com has got covered. The salvage auction portal enables members to purchase clean and salvage title vehicles from more than 700 auction locations. All you need to do to is register with us, explore our listing of salvage Jeep for sale and place your bid! If you have any questions about any of the vehicles listed with us, feel free to reach us at +1 (360) 347-1300