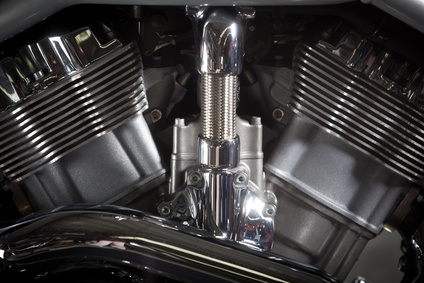 Motorcycling enthusiasts love their mean machines, and grab any chance to test the limits of their prized possession. Investing in a first hand bike, however, can be out of question at times, especially when budget is a major constraint. Participating in an online salvage bike auction is a great way to buy a good motorcycle that fits into your budget. Before putting your money down, you need to identify a motorcycle engine that best suits your needs and style. To help, the post discusses common motorcycle engine types. Take a look.
1. Single Engines
Singles are the simplest engines. As the name suggests, these engines rely on a single cylinder to produce power. These engines are mostly used in budget bikes, scooters, and dirt bikes that benefit from the superior bottom end torque most big cylinders produce. In the bikers' world, single engines are also known as athumpersa, a nickname that denotes the thumping sound and reverberations these engines make.
High Points
Easy to produce, and maintain.
Lightweight, and easy to control.
Simple design.
Shortcomings
Excess vibrations that may necessitate the need for using extra balance.
Not the best option for larger displacements.
Inferior power to weight ratios.
2. Twin Cylinder Engines

Common twin cylinder engine types include: the vertical twin four-stroke; the vertical twin two stroke; the flat-twin horizontally opposed four-stroke; and the V Twin four-stroke. Twin cylinder engines are usually found in economical (often entry level) sport bikes, cruisers, and dual sports bikes such at the BMW F650GS, and F800GS.
Plus Points

More responsive as compared to single cylinder engines.
Lightweight.
Ideal for general commuting.
Weakness
Twin cylinder engines often produce high vibrations that can make handling difficult.
3. V-twin Engines
V-twins, arguably, are one of the most iconic engines ever produced, and power almost all cruisers manufactured in the U.S. V-twins are known for their distinctive thumping sound that is a delight for a motorcycle enthusiast's ears. These engines produce brute torque and can be deceptively fast. V-twins are also found in bikes manufactured by Italian giants, Moto Guzzi, and Ducati.
Noticeable Features
High torque for enhanced power.
Distinctive exhaust note.
Low center of gravity for better control.
Low Points
Creates less power as compared to 3 and 4-cylinder engines.
Vibration issues.
The rear cylinder may take time to cool down.
4. Triple Cylinder Engines
Triple engines are not used widely. That said, those who use it swear by its performance. Triple cylinder engines are mostly used in sporty motorcycles and are a regular in Triumphs. These engines are a perfect cross between inline fours and twin-cylinders, making them fit for relaxed commuting, and aggressive racing.
Plus Points
Compact design.
Combines the features of twin cylinders and inline fours.
Unique exhaust note.
Shortcomings
Inferior refinement levels as compared to four cylinders.
High vibrations can be a problem.
5. Inline-4 Engines
Inline-4 engines feature regularly in contemporary sports bikes, and are a personal favorite of Japanese manufacturers. Inline-4 engines are also commonly found in superbikes , thanks to their superior performance.
Key Features
Superior performance.
Hassle-free power delivery.
Capable of delivering high horsepower at high RPMs.
More RPMs per minute.
Shortcomings

Broad design that can consume more space.
Low torque.
In many cases, optimal performance can be achieved at high-end power.
Conclusion

These are just some of the popular motorcycle engine types. You can weigh the pros and cons of the engines before bidding on any motorcycle at auction. At Salvagebid, we conduct online salvage bike auctions that feature different repossessed and salvage motorcycles for sale. We follow a transparent policy, and provide detailed info about all repossessed or wrecked bikes for sale offered at our auctions. To learn more about us or participate in an online salvage bike auction, call at +1 (360) 347-1300.