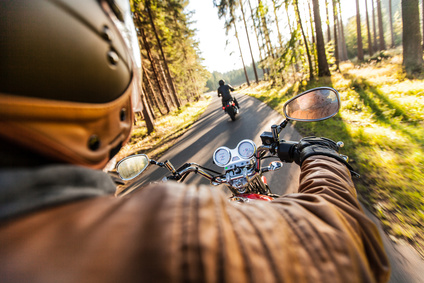 When narrowing searching for the right motorcycle, safety often takes the backseat. Most buyers fail to appreciate the fact that although accidents are unpredictable, the probability of occurrence can be lowered by choosing a motorcycle with advanced safety features. Manufacturers across the globe are addressing the safety concerns of riders and launching vehicles that provide increased protection. While anti lock brakes, full-disc brakes, traction control and extra bright headlights are some of the common features, there are a few models that come with additional safety features. Motorcycles with innovative safety features are pricey, unless you look for pre-owned or salvage motorcycles for sale. To the make search easier for you, we list top four models that are considered some of the safest on the road.
KTM 1190 Adventure
The KTM 1190 Adventure comes with revolutionary rider assistance system called as Motorcycle Stability Control (MSC). The braking system is designed to prevent low sides. The motorcycle also comes with traction control and antilock brakes system. KTM claims that MSC prevents rolling over in emergency stops, averts wheelies and can stop wheels from slipping when you apply brakes while leaning over.
Ducati Multistrada D-Air
Ducati Multistrada D-Air features a Dainese airbag jacket that senses the movements of the bike wirelessly so that an airbag opens at the time of crash. The airbag deploys in 45 milliseconds or even lesser time if the D-Air's sensor detects that the impact is imminent. Multistrada D-Air is the first production bike in the world to use one of its kind of wireless technology for safety.
Suzuki V-Strom 650 ABS
One of the best-selling mid-weight, sport touring motorcycle, Suzuki V-Strom 650 ABS has five-way adjustable front forks and windshield that can be adjusted to three heights. The twin-spar aluminum frame on the motorcycle enhances the stability the motorcycle offers to the rider. Other safety features include road freeze warning indicator, slip-resistant seat, link-type rear suspension and radial tires.
Harley-Davidson Road King
Harley-Davidson has developed Reflex Linked Brakes with ABS for the Road King. The motorcycle has electronic linking to provide the right amount of brake to the wheel that needs it the most. Additional safety features of the motorcycle include fog lights, more responsive steering, dual halogen headlamps, and brighter turn signals and brake lights.
Must Read: 5 Harley Davidsons to look for in Salvage Auctions
Last Few Words
Motorcycles with advanced safety features do provide more protection on road, but come with a hefty price tag. Buying salvage motorcycle or a pre-owned model definitely makes sense, when you have a low-budget and don't want to compromise on safety. Salvagebid offers vast inventory of salvage and pre-owned motorcycles, cars, trucks, boats, industrial equipment and other vehicles. Buying a vehicle from Salvagebid is easy and all that you need to do is register on our website and place a bid at the online salvage motorcycle auction. If you have any question about bidding, payment or shipping procedure, feel free to call us at +1 (360) 347-1300. You can also drop us an email at [email protected] and one of our executives will get in touch with you shortly.